Vikings Fans Donate $100,000 to Saints Player's Charity Beacause....
Good News in Sports: Minnesota Vikings Fans Donated $100,000 to a Saints Player's Charity, Because of His Good Sportsmanship
Here's a heartwarming story out of Minnesota: Vikings fans are rewarding a New Orleans Saints player for his sportsmanship during last weekend's game . . . after the Vikings won with a crazy touchdown as time expired.
The Saints were so upset they immediately went back to the locker room, even though both teams still had to line up for the mandatory extra point conversion.
Eventually, they got enough Saints players out of the locker room to line up, and fans noticed something: The guys on the Saints line weren't all huge. One of them was punter TRAVIS MORSTEAD, who probably hasn't been on the line since middle school, if even then. (Here's a photo.)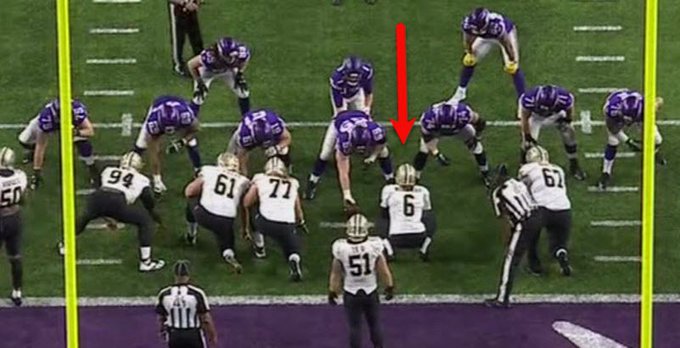 Cork Gaines

✔

@CorkGaines

Check out the 4-point stance from Saints punter Thomas Morstead on that meaningless extra point at the end.

8:25 PM - Jan 14, 2018
As it turns out, Travis was the FIRST one back out on the field even though he's obviously not part of that unit . . . and he was the ONE player who actually had an excuse NOT to be out there.
Travis injured himself after his first punt of the game, when he made a touchdown-saving tackle on Vikings return man Marcus Sherels. He tore cartilage on the right side of his ribs . . . and he played through the pain the rest of the game.
Anyway, a Vikings fan noticed, and thought Travis should be rewarded for his sportsmanship. So, he suggested that Vikings fans donate to Travis' charity, What You Give Will Grow, which focuses on pediatric cancer. And they did.
By last night, they surpassed $100,000. One donor gave $10,000, but most gave smaller amounts, including $6, Travis' uniform number.
The foundation's director told Travis that money was flooding in from Minnesota, and he couldn't believe it. He said, quote, "It's very shocking. I didn't realize I made such a statement in the game, but a lot of people perceived it that way. It's nice to see nice people doing nice things."
He wanted to do something in return, so he's giving the donations to a Minnesota children's hospital's 'Child Life' programs. He said, quote, "The money should stay in their community. I hope it'll help a lot."
He also said he'll fly back to Minnesota to personally hand the check over to the hospital, and thank the city for their contribution. He said, quote, "I may be forced to root for you guys all the way through the Super Bowl now."
Children's Minnesota✔@childrensmn
We're overwhelmed by the support of our community and from football fans from across the nation! A huge thank you to @Saints punter @thomasmorstead and his @wygwg6 foundation for supporting our Child Life program! http://www.kare11.com/article/news/vikings-fans-donate-thousands-to-charity-founded-by-saints-punter/508705985 …
10:35 AM - Jan 17, 2018
Vikings fans donate thousands to charity founded by Saints punter
A Vikings fan posted to Reddit, encouraging other fans impressed by Morstead's sportsmanship to give to Morstead's foundation. But they weren't expecting his response.
kare11.com
(Here's video of Travis and his wife telling the story on his foundation's YouTube account. Here's one update he did where he talked about trying to explain it to his kid, and here's him announcing that they'd surpassed $100,000.)
(Last we checked, they were at $132,000. You can follow the progress, here.)