T.J. Miller is in serious trouble with the federal government after getting busted at an NYC airport ... TMZ has learned.
We got video of the ex-"Silicon Valley" star getting hauled out of LaGuardia Airport Monday night around 10 PM. Port Authority cops and FBI agents took him into custody.
According to docs, obtained by TMZ, Miller was booked for providing false information or pulling a hoax with federal authorities. He'd been in Canada over the weekend doing several stand-up comedy gigs.
Miller was released from custody Tuesday morning after posting $100,000 bond.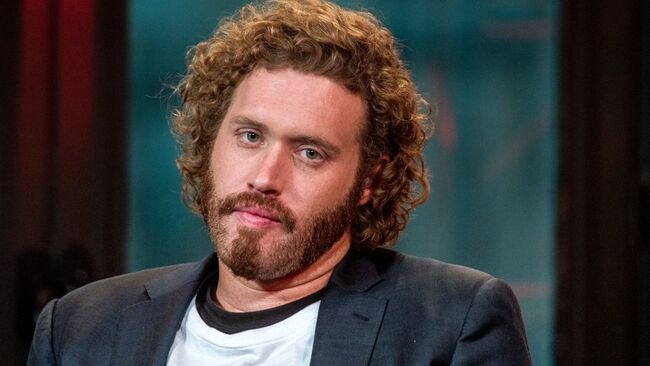 UPDATE:
Miller was arrested by FBI agents over an Amtrak bomb threat he reported back in March.
According to the FBI docs, Miller called 911 on March 18 while he was riding an Amtrak train from D.C. to NYC ... and reported a woman with brown hair and a scarf "has a bomb in her bag." An Amtrak police officer called back Miller who added ... the woman kept checking the bag and seemed to want to get off the train and leave it behind.
The officer asked Miller if he suffered from mental illness ... which he denied, and said, "This is the first time I've ever made a call like this before. I am worried for everyone on that train. Someone has to check that lady out."
As it turns out ... Miller gave cops the wrong train number, and as a result a different train was stopped in Connecticut, evacuated and searched ... causing massive Amtrak delays. Meanwhile, Miller was on his train to NY.
According to docs, Miller was removed from the train in NYC because he was intoxicated. The train attendant said Miller had consumed 2 glasses of wine and 2 double Scotch and sodas. The attendant also reported Miller had "exchanged profanity" with a woman in the First Class car -- and he did not back up Miller's account of the woman's suspicious behavior.
The woman told police Miller was being loud and belligerent on the train, and had made a comment about her hair. She admits they had an argument.
After speaking to all parties involved, cops determined Miller had a grudge with the woman -- and made the false report about her having a bomb as a result.
In the docs, the feds say Miller's mayhem caused 926 man hours-worth of delays, not to mention disrupting several law enforcement agencies and bomb squads in Connecticut and New York.
The FBI obtained an arrest warrant which it executed Monday night when Miller flew into LaGuardia Airport. Taylor Swift's beauty allegedly pushed a man with a crush on her to a life of crime all in the hopes of -- ready for it? -- impressing her ... seriously.
Bruce Rowley was arrested last week in Ansonia, CT after cops say he confessed to robbing a bank and then driving to Taylor's house and throwing some of the money that he stole over her fence, thinking that would win her over ... this according to a police report obtained by TMZ.
According to cops, Rowley allegedly entered the bank and demanded money from a bank teller. Rowley did not show a weapon or make any threats ... and the teller turned over an undetermined amount of cash.
Cops say Rowley -- who was spotted by state troopers in Rhode Island and led them on a chase back to Connecticut -- told them he tried contacting Swift, but said she wasn't home. Cops are trying to verify whether he actually went to her house.
According to the police report ... Rowley repeatedly told cops he had a crush on Taylor and that he planned on donating some of the money he stole from the bank to Ansonia PD ... believing that would impress her.
Rowley was booked for robbery in the second degree and larceny in the fourth degree. He's being held on bail.

Sarah Ruth
Want to know more about Sarah Ruth? Get their official bio, social pages & articles on Forks\\' #1 HIT Music Channel!!
Read more