Damon Wayans is blasting his former "Lethal Weapon" costar, Clayne Crawford, as a menace to everyone on the show's set, and blaming him for the stunt that left him bloodied.
Damon claims Clayne smashed a male costar in the mouth with a bottle, and insists it was not an accident. Before he was fired, Clayne also directed some episodes of the FOX drama, and Damon claims he "Relished in making females cry. And struck fear in cast and crew."
During a since-deleted Twitter rant, Damon posted a pic of a sticker he says other staffers posted around the set referring to Crawford as an "emotional terrorist."
He's also really pissed about a stunt during a Crawford-directed episode where shrapnel cut the back of his head. Damon is blaming him for a lack of safety measures on set.
Crawford did cop to having angry outbursts, but added, "I am incredibly sorry if my passion for doing good work has ever made anyone feel less than comfortable on our set."
Damon says he waited until FOX picked up the show for its third season before dancing on Crawford's TV grave. When they start shooting the new season ... Seann William Scott will take over as Murtaugh's partner.
Safe to say ... Damon's feeling too old for this s**t. Meghan Markle's dad has had a change of heart -- this after his daughter contacted him -- and he now wants to go to England and walk her down the aisle ... but there's a serious snag.
Thomas Markle just told us he's back in the hospital after experiencing serious chest pains and doctors are performing a battery of tests on him. He says the doctors told him his heart was "seriously damaged" after his heart attack a week ago.
Thomas tells TMZ Meghan tried calling him Monday but he was not near his phone. She followed up with a text telling him she loved him and was concerned about his health. He says she harbors no ill feelings toward him for making a deal with a paparazzi agency to stage photos of him getting ready for the wedding.
As for the Queen being upset with him, Thomas scoffed, saying, "I don't think the Queen is thinking about what I'm doing."
Thomas says he's thought about it and now believes what he did with the photos was not a serious transgression, although he calls it "stupid." He says he now wants to make the trek to England, telling us, "I hate the idea of missing one of the greatest moments in history and walking my daughter down the aisle."
Thomas says if doctors let him out of the hospital he will risk his health and fly to England so he can be with his daughter. Whether he gets released this week is problematic. Thomas says he's lobbied the doctors, asking if he can get out Wednesday, but they have been noncommittal.
As for his eldest daughter, Samantha, talking to the press, Thomas echoed the sentiment our Meghan Markle sources have sounded, saying Samantha has had no real relationship with Meghan as an adult and has no knowledge of Meghan's relationship with Prince Harry.
Bottom line, he says, "Of course I'd walk her down the aisle. This is a historic moment. I'd like to be a part of history."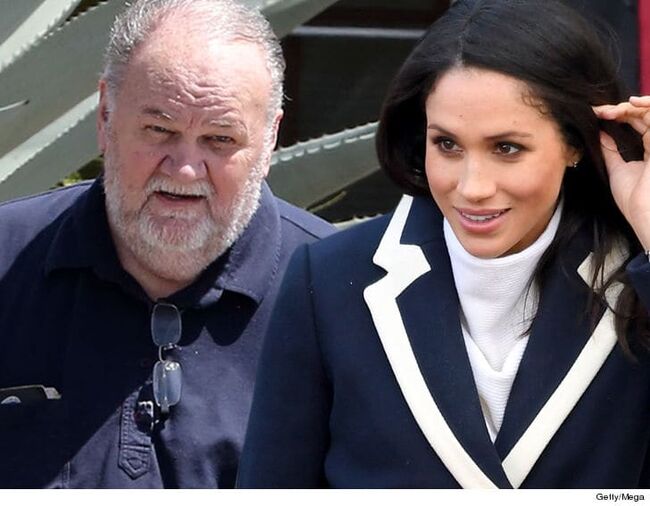 Sarah Ruth
Want to know more about Sarah Ruth? Get their official bio, social pages & articles on Forks\\' #1 HIT Music Channel!!
Read more